A comprehensive library of resources is currently being built. Please review these sources in the mean time.
Natural History of Louisiana: A Selected Bibliography
Compiled by Bob Thomas, Loyola University New Orleans


The list of references on natural history focus on the Louisiana region, thus it includes identification guides from nearby states. Except for vertebrates, identification of natural objects and species often requires the use of numerous publications since the more specious groups are not all figured or keyed in single volumes. These books are excellent, and should give the naturalist correct answers or clues to the identities of specimens, thus allowing well-grounded, educated opinions or an entre to the effective use of references found on the internet.
Click here for a collection of Louisiana maps.
Click here here for a list of resources regarding the flora and fauna of Louisiana.
PERMITS FOR LDWF properties (Wildlife Management Areas and Refuges)
"All visitors must have a WMA Access Permit, Senior Hunting/Fishing License, Louisiana Sportsman's Paradise License, or a Lifetime Hunting/Fishing License to visit an LDWF WMA, Refuge, or Conservation Area, including Shooting Ranges, for any reason—boating, hiking, bird watching, berry picking, fishing, hunting, shooting, etc.
The WMA Access Permit only covers access onto the property—it does NOT convey hunting or fishing privileges. Beginning July 1, 2022, all visitors must also comply with self-clearing permit guidelines. See more permit info.
Other Master Naturalist Programs:
Louisiana Master Naturalist Association (LMNA)
State-wide Chapters: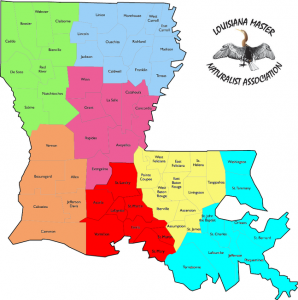 Red - Acadiana Chapter - Lafayette
Yellow - Greater Baton Rouge Chapter - Baton Rouge