​In order to register for an upcoming Master Naturalist certification course, fill out the application form .
---
Notes about Registration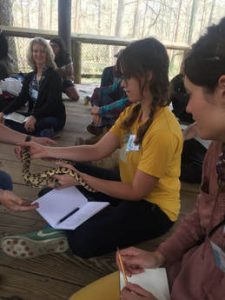 Fall workshops are taught on Fridays. Spring workshops are taught on Saturday.

In either term, there will be one two day workshop taught on both Friday and Saturday. This workshop will require overnight stay in Grand Isle, Louisiana.

In submitting your application, please state your desired term (spring/ Fall and year) and we will do our best to accommodate.
There is a high demand for these courses, and space is limited to 25 students per term. Submitting an application only places you in line to be enrolled in a class, it does not guarantee enrollment. Course enrollment is granted on a first come first served basis.
You are not in a course unless notified of course assignment via email.
For inquiries into enrollment status, please email

[email protected]

It is very common, though never guaranteed, that someone will drop out of enrollment for the upcoming term, opening slots for those who are next in line. We encourage you to get on a wait list for an earlier course if necessary.